My review of Foote Brothers Canoe Rental in Ipswich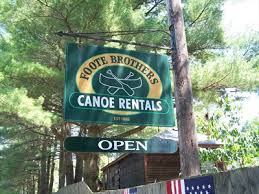 Quick Note:
Foote Brothers Canoe : None of us in our party had ever been in a canoe before and the river is filled with twists, turns an plenty of obstacles (fallen branches, rocks etc) so be patient when navigating.
How Did it Go:
We arrived at the Foote Brothers on a weekday without reservations. The staff was friendly and helpful in helping us choose the run that was a right fit for our group.
There were plenty of well maintained canoes and kayaks available along with life vests. Our group was a total of 11 people (7 children, 4 adults) and we rented 3 canoes comfortably.
 We decided to be driven by their shuttle van service to the starting point. Be prepared to help unload the canoe to the river as there was only one person from the company to help.
The trip itself (although long), was great! Plenty of beautiful wildlife to observe…frogs, turtles, ducks even cranes!
However, a little more experience handling the canoe would have made things a lot easier. The river (Ipswich River) is quite low in August and there was plenty of moments when the canoe dragged along the bottom forcing us to wiggle our way through.
Cost:
We chose the Salem run- which includes canoe, life vests, and shuttle service.
$42. per canoe
Tips:
-plan for inclement weather ahead of time to determine if its the right day to go. Local weather forecast can be found on the Foote Brothers website.
-don't forget to pack the essentials: sunscreen, water, snacks, waterproof bag for cell phone and allergy medicine, get those canoe items .

-allow for ample time.. at least 4 hours.

-leave a pair of dry clothes and shoes in the car..trust me, you will happy you did
Helpful Links:
Check out Canoes and Kayaks