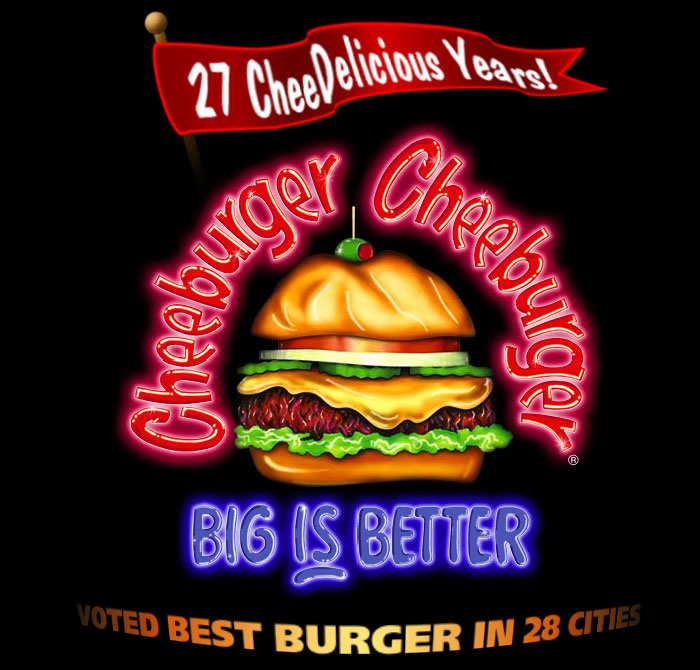 How did it go:
We arrived at Cheeburger Cheeburger (Swampscott) on a early Sunday evening. The decor immediately drew our attention as a fun 1950's themed restaurant.
We awaited to be seated which only took a few moments as the restaurant itself was pretty empty. Our hostess, Candace was also our waitress for the meal. She was very friendly and helpful with the menu. The tables were clean and atmosphere continued with the 50's feel.
We ordered three kids meals in total, two adult sized burgers (sizes range by the ounce) with drinks and some sides.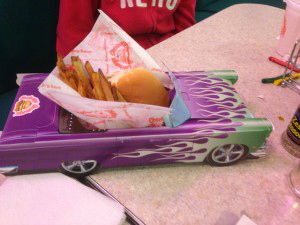 The soda was Pepsi products and came inside a mason jar. Cute presentation but very small glasses. I think I drank most of the soda in the first few minutes!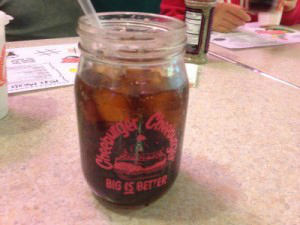 I was a bit disappointed with the sides arriving much earlier than the meal. I realized afterwards, that this is how the restaurant serves their side items and I should have ordered accordingly…sort of like appetizers. It would have been fine except I really enjoy eating fries and onion rings with my burger and ended up being cold by the time it arrived.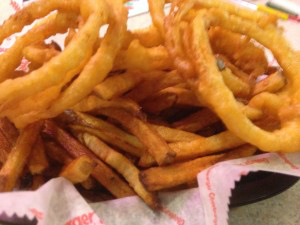 The kids highly enjoyed the presentation of their meal which came in a fun cardboard replica of a car you would see in the 1950's- Super fun way to keep going with the theme and I did hear a few giggles from them. However, my older girls (age 10) did complain that the car made her meal a little challenging to eat.
Our burgers were great sized with plenty of toppings that I got to choose from when ordering. Tasty and definitely plentiful!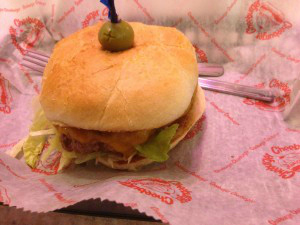 Cost: Average family of 5 will spend $40-$55
Kids meal (includes entree, side and drink) $4.99
Burgers begin around $5.79 and up
Sides (fries, onion rings) around $4.00
Shakes (they advertise over a million variations that you can choose!) $5.99
You can see the entire menu on their website cheeburger.com
Overall: Cutely themed with a good atmosphere, good for kids and a convenient location. Food was OK could do better. Service was good and friendly.