Podcast: Play in new window | Download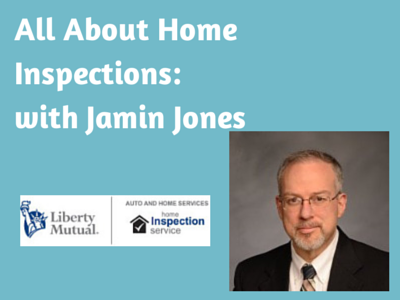 In this episode I interview Jamin Jones from Liberty Mutual Home Inspections. Jamin (Jay) has been in the real estate industry for many years. If you would like to get in touch with Jay for your home inspection you can reach him direct at 978-675-7304 or email Inspectorjmj@gmail.com
Jay and I go over quit a few things in this episode. We discuss the whole process of having a home inspection, whether you are selling your property or looking to purchase a new one, Jay drops some valuable information to help understand it much easier.
WHAT YOU WILL LEARN IN THIS EPISODE:
· What exactly is a home inspection
· Is it required in order to purchase a home?

· Items that are not covered in a standard inspection

· What items can be added

· Why you need to make sure the inspector has proper access

· Sellers tips for preparing

· Radon testing (what is it and why its important)

· How much does the average inspection cost

· What could make your inspection cost more

· What are inspectors not able to tell you

· The #1 thing that is most damaging to your home
USEFUL LINKS:
Bonus giveaway (top 10 things to look out for before buying your next home)
Thanks for listening, if this episode helped in any way I would be so greatful if you could share it using any of the social media buttons on this page (super easy to do) just click the social media site you would like to share and hit share

One more thing, if you have any questions you would like me to answer (or you want to hear questions that I have already answered), head over to my AskConnie.info and you can submit a question via email or voicemail. You're the best, thanks!