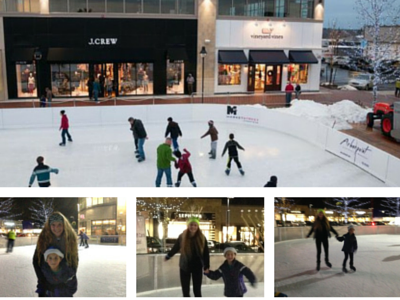 There are many reasons to head over to Marketstreet in Lynnfield- the dining options alone make it a great way to spend an evening! I was pleasantly surprised though to see that they had an outdoor ice skating rink- perfect for burning calories after dinner.
We arrived on a weekday night and found the rink entirely to ourselves. The rink and rental building is located in the center of the shopping areas. They had plenty of skates sizes to choose from and included figure/ hockey skates for our preference.
The kids and I all enjoyed about an hour of skating before we needed some warm indoor air. The rink was practically empty (only a few other couples skating). I am assuming it was quiet because we went on a weekday evening and is most likely busier on the weekends. The only negative was there was no assistant devices for smaller ages. My youngest age 7 cannot skate on her own yet so this made it a bit complicated for her.
Overall, a fantastic way to spend an evening with the family or on a date

Hours:
Monday thru Thursday 4:00 – 9:00 PM
Friday 4:00 – 10:00 PM
Saturday 11:00 – 10:00 PM
Sunday 11:00 – 9:00 PM
**School Vacation Days 11:00 AM Opening
2015 Rates:
Adult: $8.00
Child (Under 12): $6.00
Skate Rentals*: $4.00
Parking- Free
Here is a link to their website for current hours and rates