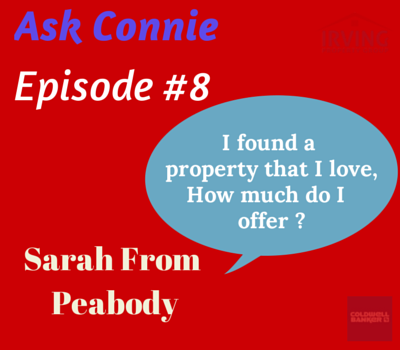 In this episode Sarah asks "i have found the property that I love, how do I know how much I should make my offer for?" Often I get asked this question about how much you should offer on a property, take a listen and I would love to know your thoughts.
What to listen for:
Why having a buyers agent is important

What are comparable sales and how to find them

What market are we in now, Buyers or Sellers

Why Being flexible with your offer can make your offer better even if its lower
Helpful Links:
Thanks For Listening
Thanks for listening to this episode of Ask Connie, if you have any comments or suggestions please leave them in the comments section below.
If you have a real estate question that you would like me to answer in a future episode, you can head over to the Ask Connie page and leave me a voice mail or an email of your question.
Also subscribe on Itunes so you don't miss any future episode. You can find me on Itunes here