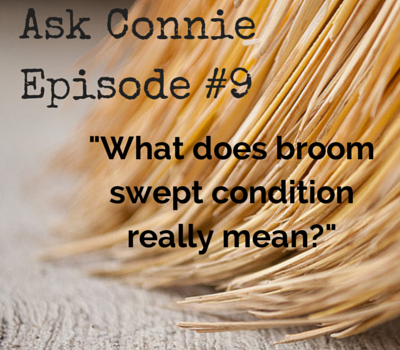 What is Broom Swept Condition
So this is a common question for sellers when they are getting close t the final day of the sale and I wanted to explain exactly what it means when it says that you will leave the house in broom swept condition. 
Things to Listen For:
What is broom swept condition

Why you need to plan fr trash removal

You will always need a trash removal company even if you think you don't

what items can stay and what defiantly can not
 Helpful Resources:
Thanks for taking the time t listen to this episode of Ask Connie. If you have a real estate question that you would like me to answer you can go over to my Ask Connie page,. There you can send me an e-mail with your question or even record your question right from your computer and send it the way that's easiest for you. I answer a new question every week so yours could be on the next episode of this podcast. 
Also talk to me on our Facebook or Google+ pages, there I am always adding useful links and information about real estate or even helpful tips and tricks about home ownership and fun activities in our neighborhood. 
If you would like to listen to this podcast right from your Iphone via Itunes (not on sticher yet

) head over to Itunes and subscribe there.